Whales of Atlantis Workshop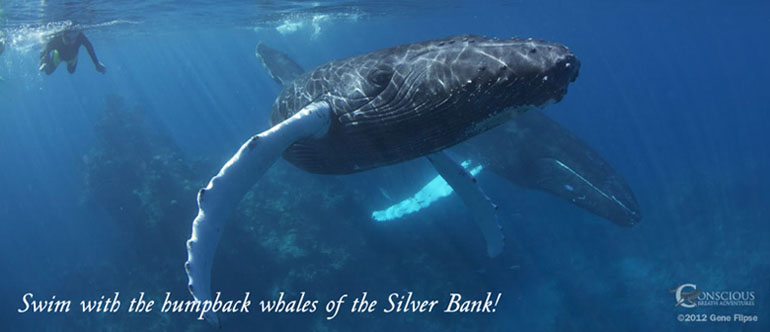 Encounter the Humpback Whales of the Silver Bank, Dominican Republic
Join April and Bashar for an incredible adventure to The Sanctuary for the Marine Mammals of the Dominican Republic, located 80 miles out to sea on the Silver Bank. Every winter thousands of whales gathering here, among the coral heads of the warm shallow waters of the Silver Bank to mate and give birth. Aboard the 138 foot live aboard boat "The Sundancer" you will be immersed in the world of the whales you will see a dazzling display of behaviors from the deck of our custom whale boats and eye to eye as you slip quietly into the sea to interact with these graceful giants in their ocean home.
Swimming with humpback whales in their natural environment, on their terms, during a Soft-In-Water Encounter, is an ultimate wild animal interaction and spending a week in this exceptional sanctuary is a journey unlike any other. Visitors arriving on the Silver Bank quickly realize they are in one of the truly special wild places on earth, a feeling that deepens as the days pass. The humpback whale behaviors you witness from above and the face-to-face experiences you have with them in the water will leave you feeling joy, awe, humility, gratitude, and respect.
Deposit required to save your spot (non-refundable): $1000 (Deluxe Stateroom).
Balance due within 7 days of deposit. 
Please email us ASAP at events@bashar.org if you are interested in attending this event!

>>REGISTER NOW<< for the Humpback Whale Adventure
2018 Workshop Rates
March 10-17, 2018

• US$4695.00 for a berth in a Deluxe Stateroom (shared room).
(THIS PRICE INCLUDES PARTICIPATION WITH BASHAR GROUP AND BASHAR MEDITATIONS)
• Sanctuary Access & Port Fees (currently $450 per person, fees subject to change).
• Fuel Surcharge (surcharge set in December for the following season; Currently estimated at $60 for the 2018 season).
*All payments made to Bashar Communications include a 3% credit card processing fee added at checkout.  All payments are non-refundable.
Swim With Humpback Whales
This Sanctuary is one of the few places on Earth where swimming with humpback whales is officially sanctioned, permitted and regulated. As a sanctuary, all activities within its bounds are subject to very specific regulations that apply to the activity of swimming with the whales as well. These regulations serve several purposes. First, they protect the whales from harassment, but they also happen to provide the best possible chance of a lasting and meaningful encounter.
Swim With Humpback Whales During a Soft-In-Water Encounter: The foundation for a meaningful encounter
The technique outlined by the regulations is referred to as a Soft-In-Water encounter, the only type of in-water interaction permitted in the Sanctuary. The basis of a Soft-In-Water encounter is a passive, non-aggressive activity wherein the participants float quietly on the surface of the ocean in the vicinity of a tolerant and cooperative whale or whales and allow the natural curiosity of the whale to draw it closer.
Participants in a Soft-In-Water encounter may use mask, snorkel and fins; but no SCUBA or rebreather equipment of any type is allowed. In a Soft-In-Water encounter there is no aggressive swimming or freediving. Participants are also required to stay together as a group. Because it is snorkeling-only, the experience of swimming with the humpback whales is open to participants of all skill levels. While it is commonly referred to as "swimming with whales," when all goes well there is little swimming involved! By entering the water quietly and floating peacefully as a group, the participants minimize any disturbance to the whales and then allow the whale to choose to approach or not. It is an encounter in their environment, on their terms.
*Due to the nature of the dolphin and whale workshops, we are not able to offer handicap accessibility. If you have any questions, please email us prior to booking your travel.
View our Terms and Conditions and 2018 Workshop Itinerary